Attorneys
Chirag Patel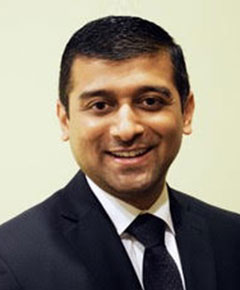 Mr. Patel is a Partner at the firm and was born and raised here in Atlanta, Georgia and currently lives in Peachtree Corners, Georgia.
Mr. Patel graduated from Georgia State University in 2008 with a Bachelors Degree in Science, cum laude. While in college, Mr. Patel joined the United States Marine Corps and was stationed at the Marine Aircraft Group in Marietta, Georgia. During his time in the Marine Corps, Mr. Patel attended Mercer University School of Law in Macon, Georgia and started building his legal experience through a number of exciting legal assignments.
Mr. Patel first began clerking for the Honorable Judge S. Phillip Brown, in the Superior Court of Bibb County. As a law student, Mr. Patel gained invaluable experience at the hands of a Superior Court Judge and has implemented this experience into his practice of law.
In addition to clerking for a Superior Court Judge, Mr. Patel participated as an Assistant District Attorney, under the Third Year Practice Act, at the District Attorney's Office in Gwinnett County. At the District Attorney's Office, Mr. Patel conducted trials and prosecuted cases under the jurisdiction of the Superior Court and Juvenile Court.
Mr. Patel furthered his experience and continued to the Federal Public Defender's Office for the Middle District of Georgia in 2012. At the Federal Defender's Office, Mr. Patel handled cases at the Federal Court level and the Court of Appeals. Mr. Patel also handled defense matter for actions occurring on military bases located in the Middle District.
In May of 2012 Mr. Patel graduated from Mercer University School of Law with a Juris Doctor. Upon graduation, Mr. Patel took his immense experience and knowledge of the law and became a Partner at Cuadra & Patel. Mr. Patel is currently a member of the Georgia State Bar, along with, The Georgia Court of Appeals and The Supreme Court of Georgia. Mr. Patel is also sworn into the Federal District Court for the Northern District of Georgia and currently handles Federal matters, both criminal and civil.
During his free time, Mr. Patel enjoys supporting his hometown Atlanta sports teams. Mr. Patel spends a lot of time on the golf course and also spends time with his family.