Attorneys
Norman H. Cuadra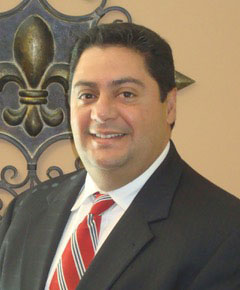 Mr. Cuadra has been married for 24 years and has three daughters. Mr. Cuadra is fluent in Spanish, speaks a little French and knows some sign language. He loves to coach and play soccer, volleyball, baseball, basketball and football.
Mr. Cuadra has been practicing law since 1995 and is presently the Chief Judge of the Municipal Court of Suwanee. Norman is the managing member of Cuadra & Patel, LLC, where the firm practices criminal law, family law, personal injury law and issues related to criminal/immigration matters.
Mr. Cuadra received his bachelors degree in Rehabilitative Services from the University of Florida in 1989. In 1991, Mr. Cuadra obtained his Florida
Department of Law Enforcement certificate and worked with the Florida Department of Corrections as a Felony Probation Officer supervising a specially designated Gang-affiliated caseload. In 1995, Mr. Cuadra graduated with his Juris Doctorate from Nova Southeastern University.
Mr. Cuadra is a member of the Georgia Bar, Gwinnett Criminal Defense Bar, Forsyth County Criminal Defense Bar, Criminal and Family Law Sections of the Georgia Bar, Georgia Court of Appeals, Supreme Court of Georgia, and US Federal Northern District of Georgia. Mr. Cuadra has litigated at all of the different levels of court in the State of Georgia, including presenting oral argument before the Georgia Court of Appeals and the Georgia Supreme Court.
Mr. Cuadra is an active member in his community. He was past President of the Gwinnett Criminal Bar Section. He has served as a 4th District Representative for the Municipal Court Judge's Council. He was a member of the Commission on Interpreters, serving on the Rules Committee and Ethics Hearing Committee, as a Municipal Court Judge member. Mr. Cuadra has been a guest lecturer for the Georgia Bar and Municipal Court Judge's Continuing Legal Education Seminars. He has also been a guest on CNN Español and PBS television show "Leyes Cotidianas."
Mr. Cuadra has served on the Riverside Elementary School Council, instructed the North Gwinnett High School Mock Trial Team and has been a guest speaker for Suwanee Youth Leaders.
Mr. Cuadra is presently a Deacon for Sugar Hill Church. He and his family have been attending church at Sugar Hill Church for the last 15 years. Mr. Cuadra has served on the Personnel Committee and is presently a representative board member for the North Gwinnett Cooperative.